Bird Walks
Audubon Birdwatching Tour of Druid Hill Park
Saturday, May 22, 2021
8:00am - 9:30am Eastern Baltimore, Maryland
Location Details
Druid Hill Park
3001 East Drive, Baltimore, 21217
Meet by the tennis courts at 3001 East Drive. Parking is available. Spot on map and route is approximate.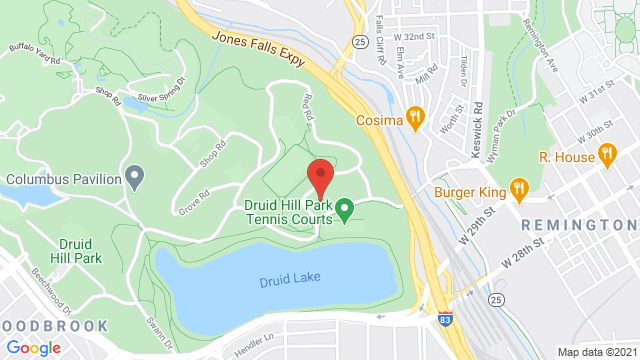 Druid Hill Park is Baltimore's oldest large park and is home to 745 acres of forests, fields, and a large lake. 189 species of birds have been documented here, including nesting Baltimore orioles and yellow-crowned night herons. Audubon experts will lead us in search of avian friends! No experience necessary. BYOBinoculars!
Saturday, May 22, 8:00 - 9:30 AM
Meet at 3001 East Drive
All ages and abilities welcome!
FREE!
*With group sizes limited, we ask that you not register for more than one tour per month, in order to leave the opportunity available for others.*
PLEASE READ THIS IMPORTANT INFO:
Registration is required in order to help us keep our group small. Each individual must register, including multiple people from the same family/group. We know unexpected things happen, but if you register, please make your best effort to attend. If you are not feeling well, please stay home.
Thank you for reading the following information and following our COVID-19 Code of Conduct in order to keep all our program participants, volunteers, and staff safe.
Audubon's COVID-19 Code of Conduct
Program participants must:
• Sign a liability release: http://bit.ly/PPACBirdingWaiver If you can, please download, e-sign, and email the form to us ahead of time (baltimore@audubon.org); or print, sign, and bring it to the event with you. We will have blank copies available.
• Wear masks that cover the nose and mouth.
• Adhere to safe social distancing standards during field trips.
• Stay home if you have any symptoms of COVID-19, have had any in the past 14 days, or have had contact with anyone who has.
• Register online in advance of the program (due to group size limits).
• We encourage participants to bring their own hand sanitizer, mask, and/or wipes for use during Audubon programs.
• Not share optics or other equipment. There will be no shared views through spotting scopes and no loaner binoculars.
Audubon staff and volunteers will:
• Wear masks that cover the nose and mouth.
• Establish and enforce safe social distancing standards during field trips.
• Limit group sizes in accordance with current COVID-19 restrictions.
• Allow only those who have registered in advance to join the program.
• Sanitize surfaces as appropriate.
• Offer extra masks and hand sanitizer to the extent possible.
• Not provide loaner binoculars or spotting scopes to prevent sharing equipment.
**If you are not able to follow these rules, the group leader will ask you to leave.**